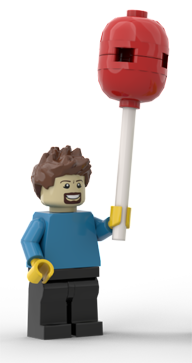 I'm Andy and I live in Kent which is in the UK !! I build Custom LEGO® Brickheadz™ Instructions as well as other MOCs. I also design and print custom Minifigure artwork which can be found at www.minifigart.com
My Instructions are very high quality the same as you would expect from an official LEGO® Set.
After purchasing a set of instructions you will instantly be shown a link to download the zip file which contains the PDF instructions, Excel Document containing detailed colours, part No. etc. and a text file that you can use to upload to a Bricklink 'Wish List' to make purchasing parts even easier. For a guide to using Bricklink please click here.
You will also receive an email containing links to the instructions which will remain live for 60 days, giving you enough time to save the files to your computer, tablet or phone.
All my builds use official Lego® Parts and colours that are available to purchase. To keep sourcing parts as cheap as possible I try to ensure I don't use any rare parts or expensive parts.
If you don't own a tub of random Lego® bricks, then required Parts can be purchased via Lego Pick a Brick and Bricklink.
On each listing, I've also included an estimated Bricklink price guide.
Please visit me on social media:
Please note that all instructions for sale are copyrighted. All rights are reserved with the copyright holder. Illegal duplication or distribution of this copyrighted material and/or its content is strictly prohibited and punishable by law. 'LEGO' is a registered trademark of the 'LEGO Company', who do not sponsor, authorise or endorse the sale of any of my custom instructions.