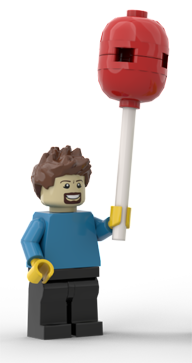 I'm Andy and I build Custom Lego® Brickheadz™ Instructions.
My Instructions are very high quality the same as you would expect from an official Lego® Set.
After purchasing a set of instructions you will instantly be shown a link to download the zip file which contains the PDF instructions, Excel Document containing detailed colours, part No. etc. and a text file that you can use to upload to a Bricklink 'Wish List' to make purchasing parts even easier. For a guide to using Bricklink please click here.
You will also receive an email containing links to the instructions which will remain live for 7 days.
All my builds use official Lego® Parts and colours that are available to purchase. To keep sourcing parts as cheap as possible I try to ensure I don't use any rare parts.
If you don't own a tub of random Lego® bricks like I do, then required Parts can be purchased via Lego Pick a Brick and Bricklink.
Please visit me on social media:
Please note that all instructions for sale are copyrighted. All rights are reserved with the copyright holder. Illegal duplication or distribution of this copyrighted material and/or its content is strictly prohibited and punishable by law. 'LEGO' is a registered trademark of the 'LEGO Company', who do not sponsor, authorise or endorse the sale of any of my custom instructions.